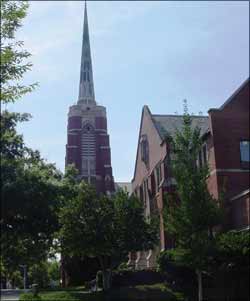 Edenton Street United Methodist Church

In February 1811, James Madison had just succeeded Thomas Jefferson as president of the United States when the Methodist annual conference met at the State House in Raleigh. Our nation and the City of Raleigh were both in their infancy. One of the first events following that conference was the erection of a new house of worship, completed later that year, on the site where Edenton Street United Methodist Church stands today. While the boards, beams, bricks and mortar at the corner of Edenton and Dawson streets have undergone many changes -- including being burned to the ground and rebuilt twice -- the spirit of the congregation has remained strong and steadfast. For over 200 years we have been Sharing Christ from the Heart of Raleigh. And as we look forward our vision is stated as: Edenton Street United Methodist Church, a community of faith…
…inviting all to encounter Jesus … preparing believers to deepen their dependence on God … caring for those who are hurting …sending ordinary people into the world equipped to do extraordinary things.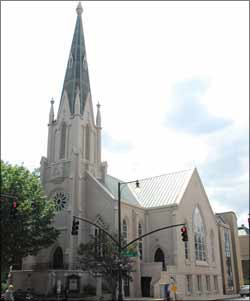 First Baptist Church, Salisbury St.
We began on March 8, 1812 when 14 slaves of African descent and nine free persons of European descent gathered in the "State House" to form a Baptist church. A delegation of African American members requested and were granted letters of dismissal on June 5, 1868. Descendants of the slaves constitute what is now FBC Wilmington Street. The church was located on Moore Square, in Briggs Hardware, and on the corner of Wilmington and Morgan Streets before the first service was held in the current building on September 11, 1859. While having a rich heritage of distinguished pastoral leadership, there is also a rich heritage of strong and thoughtful lay leadership. Both men and women form the backbone of this church and its service to Christ and the world. FBC Salisbury Street seeks to provide a compassionate presence downtown while having members who live throughout the metropolitan area. We are Baptist by distinction, ecumenical in scope and global in concern. We are mission-minded, service-oriented and inclusive in spirit and practice.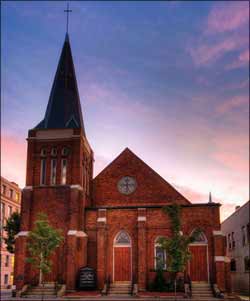 First Baptist Church, Wilmington St.
First Baptist Church marked its beginning in 1812 as part of a bi-racial congregation of 14 slaves of African descent and nine freemen of European descent. Descendants of freeman constitute, what is now, FBC- Salisbury Street. In June, 1868, H. Jett & other Blacks asked for letters of dismissal from integrated church to worship as separate body under name FBC, Colored. Request was granted. Black congregation has had following pastors: Rev. W. Warrick, Rev. J. Worlds, Rev. W. Greene, Dr. J. Kirby, Rev. W. Coleman, Dr. C. Askew, Dr. O. Bullock, Dr. C. Ward, Rev. N. Boykin, and Dr. D. Harshaw, Jr.
"We offer numerous auxiliaries and programs to provide members the chance to become involved and offer their talents and abilities to build God's kingdom. We place a strong emphasis on Bible study, prayer and missions. We are thankful that, for Greater Raleigh and surrounding areas, God has allowed us to serve as a point of contact for His kingdom."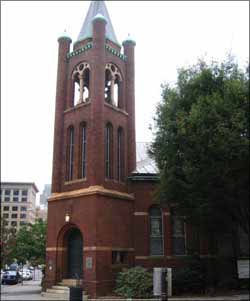 "Serving Christ from the heart of the city to the ends of the earth with love, faith, and action" is the mission of First Presbyterian Church. We minister to a broad range – from the downtown area to the whole world. The Frank Harmon historically-restored sanctuary houses beautiful, old stained glass windows and a pipe organ. We are a congregation of the Presbyterian Church (USA), a church with roots in the Protestant Reformation. We affirm the sovereignty of God, the Lordship of Jesus Christ and central importance of the Scriptures in shaping our lives and our life together. Organized in 1816, the first church opened and was dedicated in 1818. Our present sanctuary was erected in 1898. Weekdays, we host GED classes, Alcoholics and Narcotics Anonymous, a Child Development Center, StepUp's Job Friends program, Safe Child Plus Classes and women from Raleigh Correctional Center learning how to prepare for job interviews. For over 50 years, our Community Outreach Office has provided clients with financial assistance. We have Sunday services at 8:30 a.m. and 11:00 a.m. and Sunday School for all ages at 9:45 a.m. We host a Wednesday service and meal at 12:05 p.m.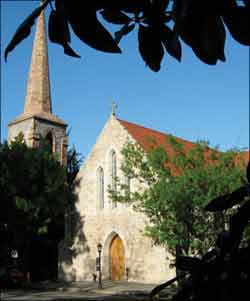 Christ Church was organized August 1, 1821 with 35 members. In 1829, with a bequest of Mary Sumner Blount of Tarboro, N.C., the church was able to buy the present lot and erect a simple frame building. In 1840, the Reverend Dr. Richard Sharpe Mason wrote to Richard Upjohn, the most eminent American church architect of the period inquiring about designing a new structure for Christ Church. The present church was consecrated on December 22, 1853. In 1914, Hobart Upjohn, grandson of Richard Upjohn, designed a new parish hall and chapel. A large education wing was added to the church in 1970. The church has been designated a National Historic Landmark and placed on the National Register of Historic Places. For nearly two centuries, the parish of Christ Church has served the community of Raleigh and has been a witness to the Glory or God.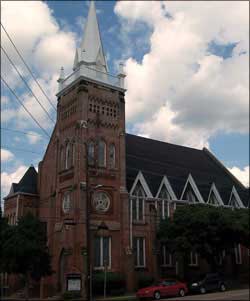 St. Paul A.M.E. Church was originally a part of the Edenton Street United Methodist Church. The African American members attended services there, but due to a rapid growth in their membership, different housing arrangements became necessary. In 1853, White Methodists bought the Old Christ Episcopal Church, where the African Americans had worshipped since 1846. In 1848 "St. Paul Church" was formally established. The congregation remained under the guidance of the Methodist Episcopal Church, in the South, until Emancipation. In 1865, the membership severed its ties with Edenton Street Methodist Church and joined the African Methodist Episcopal Church. The birth of the current structure began in 1884 and was completed in 1901. In 1999, an addition to the old structure was built. St. Paul A.M.E. Church is the oldest African American church in Wake County, North Carolina. Rev. Robert J. Hodges Sr. serves as the pastor.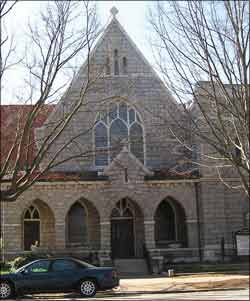 The Church of the Good Shepherd was formed in 1874 as Raleigh's first free Episcopal Church, where pews would never be rented for capital funds. The original wood frame church, completed in 1875, was later moved to provide space for the present building. Its marble cornerstone, quarried near Jerusalem, was laid in October, 1899, and construction was completed in 1914. Installation of the stained glass windows took place over the next 60 years. In 2006, the original church building was moved to its current location on East St. to make room for the addition of a new parish life center and Shepherd's Table Soup Kitchen, which serves free, hot meals every weekday. We extend a warm invitation to all—visitors seeking a place to worship and those who wish to explore more deeply and become an integral part of our church community. We have an active and energetic membership with diverse backgrounds, interests and perspectives. Sunday Worship: 8:00 a.m. and 10:15 a.m. and occasional Evening Meditation and Prayer services. Thursdays at 12:05 Holy Eucharist and Healing Service in the Parish Life Center chapel.
In 1879 the Catholic Community of Raleigh purchased the Pulaski-Cowper Mansion, former homeplace of Confederate General Bryan Grimes. The Mansion was renamed Sacred Heart Catholic Church. The present small granite church was completed in late 1924 by Irish stonemasons who worked on the Capitol Building. Father Thomas Griffin, pastor of Sacred Heart persuaded the Vatican to establish Sacred Heart as the Cathedral Church. Until completion of the new cathedral near the Centennial Campus of NCSU, Sacred Heart was the Mother Church for the Roman Catholic Diocese of Raleigh, the spiritual center for Catholics in eastern North Carolina and also the smallest cathedral in the continental United States. Among the pastors serving here was Father Thomas Price the first native North Carolinian to be ordained a Catholic priest. He founded the Catholic Orphanage on Nazareth Street and the Maryknoll Missions. Father Price is now under consideration to become a saint. Sacred Heart will remain as the cherished mother church of the Catholic Diocese.