Saturday, October 1, 2022
9:00 a.m. - 12:00 p.m.
Start anywhere, and visit in any order you wish.
Look for balloons at church entrances and "Community of Historic Churches" signs along the route.
Handout with map and information available at every church on the Walk.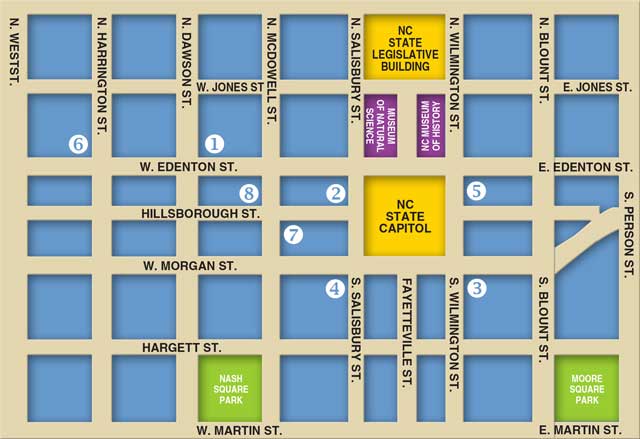 Churches are numbered in chronological order from 1811 to 1879.
PLEASE NOTE: Edenton Street United Metodist Church is not participating in the 2022 Church Walk.
Edenton Street United Methodist Church: 228 West Edenton Street, Raleigh, NC 27603 (not participating)
First Baptist Church, Salisbury St.: 99 North Salisbury St., Raleigh, NC 2701
First Baptist Church, Wilmington St.: 101 South Wilmington Street, Raleigh, NC 27601
First Presbyterian Church: Morgan Street at Salisbury Street, Raleigh, NC 27601
Christ Church: 127 E. Edenton, Raleigh, NC 27601
St. Paul A.M.E. Church: 402 West Edenton Street, Raleigh, NC 27603
Church of the Good Shepherd: 125 Hillsborough Street, Raleigh, NC 27603
Sacred Heart Church: 200 Hillsborough Street, Raleigh, NC 27601